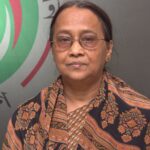 Selina Hossain was born on June 14, 1947 at Rajshahi, in Bangladesh. One of the foremost writers of Bengali fiction today, she is also actively involved in cultural and social work in the areas of human rights and gender issues. Her publication includes about 21 novels, 4 collections of short stories, 4 books of essays, and 4 books of children's literature.
Several of her books are in the syllabus of universities such as Rabindra Bharati University, Jadavpur University, and the University of Assam. Her stories have been translated into English, Hindi, Marathi, Kannada, Malayalam, Russian and French. Translated novels include Hangor, Nodi, Grenade (English, 1987 and Malayalam, 2001), Neel Mayurer Joubon (English, 1983), Tanaporen (English, 2000 and Urdu 2003).
She likes to travel and has been to many countries. She currently lives in Dhaka.