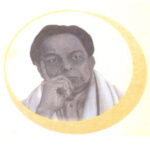 Sheikh Rabiul Haque born on 15 th September, 1947 in Kustia, Bangladesh, is
basically a professional businessman and an entrepreneur (Real estate developer
by profession). Sheikh Rabiul Haque is also a noted poet, painter, essayist, story
writer, singer, lyricist and Sufi practitioner. A thinker & amongst the philosophers who can see at the farthest. His father Late Julmat Ali Sheikh was a scholar student during the then British India, his mother is Late Rabea Khatun.
His mentionable works include Darsonik Gadha (Thoughtful Ass/collection of essays & Thoughts), Koti Bachor Pore (After A Crore of Years/collection of poetry), Dristi O Path (Sight and Path/collection of 50 paintings) Momotamoyi (an album of his poetry recitation), Rubayat a Rabi (collection of self-composed Rubai) Hay, Pipre Samaj (collection of Poems) Keramotir Biraombana (collection of stories) Taaoa O Ruti, Kabita sangraho & Hazar Bocharer kobita like that about 20 publications are very significant. Even the Album sung by Sheikh Rabiul Haque (Aaha oi Ankabanka: a music album) is remarkable. A recitation album on his selected poems recited by Mahidul Islam is very popular in the market.
- He is a widely traveled man and has traveled throughout the world.
- He is a social activist and a District Governor (2017-2018) of International Lion Club of District 315A1 and involved with many social organizations and especially he is a senior member of YOGA Foundation & pro-masters of the Quantum Foundation in Bangladesh.
- He lives with his wife, one daughter, two sons & three grand children in Dhaka, Bangladesh.
Books Of Sheikh Rabiul Haque